RADIO SOL FM – PARTY @ Oktoberfest in Corralejo 2023
Plaza Patrizio Calero [Corralejo]
Event info
| | |
| --- | --- |
| Date: | Oktober 13, 2023 |
| Time: | 19:00 |
| Location: | Plaza Patrizio Calero |
| Address: | Corralejo |
Details
Radio Sol FM Fuerteventura ist wieder on Tour diesmal beim
Oktoberfest in Corralejo 2023
Dieses traditionelle deutsche Fest, das die Herzen von Menschen aus der ganzen Welt erobert hat, kommt nach Corralejo, um ein einzigartiges Erlebnis voller Bier, authentischem deutschen Essen und Spaß zu bieten
DJINGO DJANGO (Ingo) ist für euch mit einem Team vor Ort. Reichlich Stimmung ist vorprogrammiert.
… und natürlich haben wir für euch wieder unsere begehrten Gadgets von Radio Sol FM Ftv im Gepäck
Wie haben für euch im Partyangebot als liveacts:
MAC & ROLL BAND
Miss Musik band
Duo Talisman
Julia und Robert
 und    THE PARTY-DJ  DJINGO DJANGO
es gibt verschiedene Aktivitäten in mehreren Sprachen:
Baumstammnageln (Stump nailing)
Masskrugstemmen (holding the beer mug)
Hufeisenwerfen
Bierpong
Und natürlich ist auch für das leibliche Wohl gesorgt mit:
Brez`n
Weisswurst
Haxe
und viele Liter Bier
Am Sonnabend werden wir live vom Oktoberfest in Corralejo im Radio berichten
Radio Sol FM @ Oktoberfest in Corralejo 2023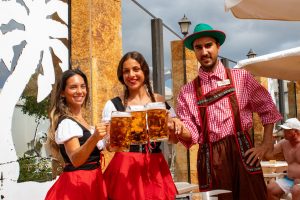 Radio Sol FM on Tour  zur großen Radio Sol FM – PARTY @
Oktoberfest in Corralejo 2023
Von Freitag, den 13. Oktober 2023 ab 19:00  bis  Sonntag, den 15. Oktober bis 16:00 Uhr
auf der Plaza Patrizio Calero in Corralejo
mit dabei Ingo (Djingo Django),
Ihr seid alle eingeladen mit dabei zu sein!
Der Eintritt ist frei!
Also lasst euch diesen Termin nicht entgehen!
---
Location